In Council of Coaches, multiple virtual coaches form a personal council that supports the user in their health and well-being. Individual coaches have their own area of expertise, personality and style of coaching. Join a council meeting! Give the council your thoughts, or listen and observe how the individual coaches exchange their views on your health behavior. Take what you've learned into your daily life, and if the need arises, contact any of the coaches anytime, anywhere.
Website: http://council-of-coaches.eu/
Type: EC/H2020/PM-15; Start: 1st September 2017; Duration: 36 months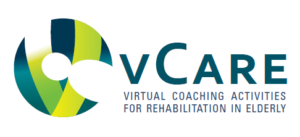 One out of six people in the European Union (EU) has a disability. The most frequent reason for disabilities are not accidents but diseases with an intensive acute episode. Against the background of the demographic development, this trend will continue dramatically. Providing suitable rehabilitation is the main issue for people as they age. It helps people to live independently, and self-determined. However, the continuity of rehabilitation often interrupts with the transition from the hospital to the home. Virtual Coaches as a key technology for empowering people can help them to proceed with a personalized rehabilitation that complies to age-related physical, cognitive, mental, and social conditions. "vCare" project (Virtual Coaching Activities for Rehabilitation in Elderly) addresses two major shortcomings of the status quo: the use of ICT to carry out a personalized care pathway; a verifiable clinical validation. vCare aims to provide an ICT environment that empowers and motivates people to proceed with a personalized rehabilitation that complies with age-related conditions. Well-elaborated coaching services of former EU projects will be adapted. The pathway and related coaching services will be adapted continuously to the patients' need. Therefore, the system will integrate a semantic layer (universAAL) including a reasoning engine that merges all patient-related and context information together to a big picture. The advanced services of vCare will be deployed and tested on a reference (FIWARE-based) platform and implemented to four reference sites. The results of vCare shall stimulate the European ICT sector for social innovations in the age of digital transformation, by delivering a validated example for ICT-based innovations in the healthcare market in general and in the area of rehabilitation in particular. In sum, vCare will contribute to the EU goal to increase healthy life years of Europeans by two until 2020.
Website: :www.vCare-project.eu
Type: EC/H2020/PM-15; Start: 1st September 2017; Duration: 48 months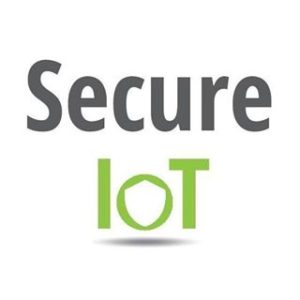 The IoT market is currently undergoing a transformation from applications involving semi-passive devices operating within a single platform, to applications involving smart objects with embedded intelligence while spanning multiple platforms. State-of-the-art security mechanisms are not sufficient for protecting end-to-end this wave of IoT applications. SecureIoT is a joint effort of global leaders in IoT services and IoT cybersecurity to secure the next generation of dynamic, decentralized IoT systems, which will span spanning multiple IoT platforms and networks of smart objects, through implementing a range of predictive IoT security services. SecureIoT will architect predictive security services in-line with leading edge reference architectures (RA) for IoT applications (i.e. RAs of the Industrial Internet Consortium, the OpenFog Consortium and the Platform Industrie 4.0), which will serve as a basis for specifying security building blocks at both the edge and the core of IoT systems. SecureIoT will provide concrete implementations of security data collection, security monitoring and predictive security mechanisms, which will be the basis for offering integrated services for risk assessment, compliance auditing against regulations and directives (e.g. GDPR, NIS, ePrivacy), as well as support to IoT developers based on programming annotations. The services will be open and based on the SECaaS (Security-as-a-Service) paradigm.The SecureIoT services will be challenged in market-driven scenarios and use cases in the areas of smart manufacturing (Industrie 4.0), connected cars and IoT-enabled socially assistive robots. Their deployment will be based on both enterprise scale globally available IoT platforms and community open source platform of the partners. As part of its exploitation strategy, SecureIoT will integrate a multi-sided market platform in order to offer SECaaS services, but also to enable integration of additional security mechanisms in its ecosystem.
Website: SecureIoT.eu
Type: EC/H2020/IOT-03; Start: 1st January 2018; Duration: 36 months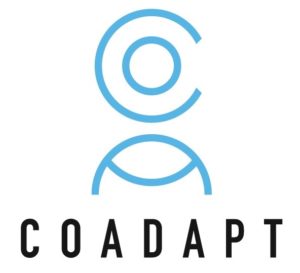 Comprehensive resilience and adaptivity of ageing citizens to the above issues can be supported through the use of a variety of resources provided at different levels by society, communities and individuals. The aim of CO-ADAPT is to provide a platform that will serve as a change-enabler. The platform will identify resources for the change management through an adaptive smart environment to support change and development in acquiring new professional skills, maintain active and harness experiential knowledge, learn novel and more effective everyday life practices in support of active ageing and wellbeing.
Website: coadapt-project.eu
Type: EC/H2020/SC1-DTH-03-2018; Start: 1st December 2018; Duration: 42 months

Healthcare is increasingly evolving towards digitisation: from the development of electronic health records, of teleconsultation and tele-expertise is thriving and connected objects are on the rise. It is evident that threats and potential damages to healthcare critical infrastructures due to cyber attacks require a fortification of the security features in the industry. PANACEA will be the field demonstration that security stems from awareness of one own's cyber vulnerabilities, enabling healthcare facilities to assess the nature and severity of a threat, and sustainably decide to adopt strategies to strengthen its preparedness and response. PANACEA will deliver a Dynamic Risk Management Platform, through assessment and penetration tests supporting information sharing across organisational boundaries. Data will be collected not only from local IT structures but also from remote infrastructure and from IoT devices based on Secure Information Sharing Platform (SISP). On one hand, PANACEA will address the need to respond swiftly to a complex, multi-faceted cyber threat landscape, on the other hand, it will address the need for highly-skilled cybersecurity professionals to help reduce cyber risks in healthcare.
Website: http://www.panacearesearch.eu

Type: EC/H2020/SU-TDS-02-2018; Start: 1st January 2019; Duration: 36 months
European network staff exchange for integrating precision health in the health care systems (ExACT)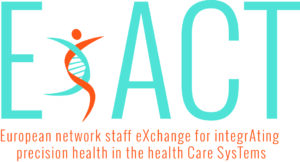 The aim of the "European network staff eXchange for integrAting precision health in the health Care sysTems (ExACT)" is to train a new generation of professionals that can contribute to the future of health and healthcare (HC), by providing highquality, multidisciplinary knowledge in precision health. The greater personalisation of HC is a driver of innovation for research, and for the healthcare system and industry. Still policy makers, HC professionals, citizens, and private companies need to take some steps to realize its potential. In order to harness this challenging landscape, the ExACT consortium provides a cohesive framework for training staff across 7 EU Countries, 1 AC and 2 TCs. During 4 years, the staff involved will be trained on research topics not available at the home institutions thanks to 74 secondments. They will attend courses, workshops, seminars, conferences, and will participate in organizing outreach activities, thus acquiring new skills. Research topics include: Integration of Big Data and digital solutions into the HC systems; Designing and promoting innovative citizen engagement models; Education of healthcare professionals and leadership; Health Technology Assessment in precision health; Ethical-legal, social, organisational and policy issues surrounding precision health. ExACT is embedded in existing cooperation structures, such as the RISE-PRECeDI project, IC PerMed, and CSA TO-REACH. The consortium consists of 15 beneficiaries and 2 partners, of which 10 are academic institutions including Stanford University where a precision health program has been launched, and 7 non academics including 2 SMEs. The participants will produce key reports, policy recommendations, scientific publications, and information materials for citizens, thus fostering public-private interactions. In the long run, ExACT will foster the integration of precision health in the EU HC systems, thus contributing to better health for Europeans citizens.
Website: http://www.exactproject.net

Type: EC/H2020/MSCA-RISE-2018; Start: 1st March 2019; Duration: 48 months

Despite rising investments on BigData, AI and IoT in finance/insurance, financial and insurance organisations are still facing many challenges (i.e. data "silos", regulatory complexity, lack of testbed resources) in realizing the full potential of these technologies. INFINITECH is a joint effort of global leaders in ICT and finance towards lowering the barriers for BigData/IoT/AI driven innovation, boosting regulatory compliance and stimulating additional investments. It will provide: (1) Novel BigData/IoT technologies for seamless management and querying of all types of data (e.g., OLAP/OLTP, structured/unstructured/semi-structured, data streaming & data at rest), interoperable data analytics, blockchain-based data sharing, real-time analytics, as well as libraries of advanced AI algorithms; (2) Regulatory tools incorporating various data governance capabilities (e.g. anonymization, eIDAS integration) and facilitating compliance to regulations (e.g., PSD2, 4AMLD, MIFiD II). (3) Nine novel and configurable testbeds & sandboxes, each one offering Open APIs and other resources for validating autonomous and personalized solutions, including a unique collection of data assets for finance/insurance. The project's results will be validated in the scope of 14 high impact pilots providing complete coverage of the sectors, including Know Your Customer (KYC), customer analytics, personalized portfolio management, credit risk assessment, preventive financial crime analysis, fraud anticipation, usage based insurance, agro-insurance and more. INFINITECH will establish a market platform that will provide access to the project's solutions, along with a Virtualized Digital Innovation Hub (VDIH) that will support innovators (FinTech/InsuranceTech) in their BigData/AI/IoT endeavors. Based on their strong footprint in the European digital finance ecosystem, the partners will engage stakeholders from all EU-28 countries, making INFINITECH synonymous to disruptive BigData/AI innovation in the target sectors. INFINITECH will provide and validate a unique mix of technological, regulatory, experimentation, business modelling and innovation management resources that will enable both incumbent institutions and FinTech/InsuranceTech firms to disrupt the finance and insurance sectors based on Big Data, AI and IoT technologies. Innovation Sprint will be managing the pilot of Real World Data for Novel Health-Insurance products, bringing Healthentia to a large scale pilot to demonstrate how RWD can be utilized from insurance companies to result in novel insurance products for the benefit of the insurer and the customers.
Website:

Type: EC/H2020/ICT-2018-3  Start: 1st October 2019; Duration: 39 months