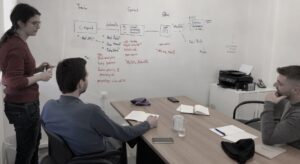 Innovation Sprint is very happy to welcome the new team members that joined the team the last few months. Konstantinos Tsagkos as the Head of R&D, Aimilia Tsakiri as Data Science Expert and Akis Idrizi as Software Architect & Engineer.
Konstantinos joined Innovation Sprint in December 2018 as Head of our R&D activities bringing to the team an engineering background with expertise in Business Management and Internal Processes. He will be responsible for overlooking and managing our R&D portfolio of projects, looking out on opportunities of exploiting and integrating new technologies and features in the development and improvement of our product solution.
Aimilia joined the team also in December 2018 and is responsible for setting up the team of Data Science. She has an engineering background and is a data and technology enthusiast. She brings her experience in analyzing data to draw business-relevant conclusions and in data visualization tools and is responsible for our Data management and standardisation compliance as swell as data analysis and fusion.
Akis is our last superhero that joined in January 2019 as a Software Architect and Engineer. He has a a computer science degree and a passion for software engineering, He has knowledge of Ethics in Data Mining and strong skills in .NET Core, NodeJS, PHP  and Service Oriented applications and is responsible for the product development of Innovation Sprint.
The last few months the new members had a great contribution to the vision and product roadmap of innovation sprint with brainstorming meetings and ongoing workshops. We are all looking forward to moving to our new offices in our established Athens Branch and extend further the team with people
Stay tuned